Resource Review: Google Jamboard Remote Teaching video
This is a snapshot for instructors contemplating using technology in their teaching plans. Resource Review: Google Jamboard for Remote Teaching video.
Reviewing technology and how leaders implement it is the focus of this post. Full credit to the owner of the resource for all material included in the production.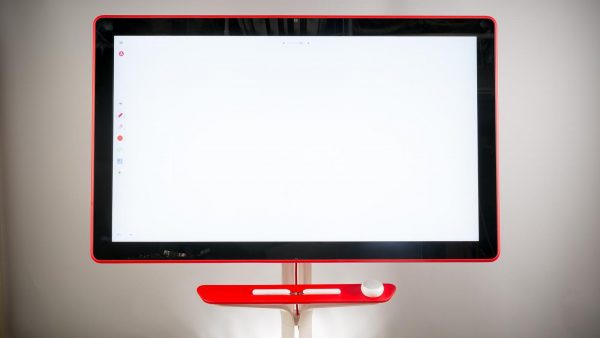 Our reviews present information for you the reader to research into more details.
Style Tutorial
Presenter Sam Kerry – his post includes information about other issues instructors may include using this technology.
Goal to demonstrate: How to create interactive remote lessons
Technology used: Google Jamboard.
Duration 12 minutes.
Comments: Over 1200 at time of review. Include additional problem solving notes.
Views + 1 million since June 2020. 33k likes <300 dislikes.
Need another opinion?
I like that it is a product of Google and as a consequence, Jamboard integrates well with G Suite. It's a nice extension that gives people what they want during remote meetings: collaboration, visibility, and transparency, and fun!
You mentioned in the video you wished there was a way to lock the features to your jamboard. You can create the jamboard and save it as a picture. Then make a new jamboard, insert the picture you created, resize as needed and add new features on top of the picture. That way students won't be able to make changes to the content.
Alternative and complementary resources found to support your continuing research.
Learn how to use Google Jamboard, an online interactive whiteboard, for remote teaching.

In this week's education technology tutorial, edtech enthusiast Sam Kary shows different ideas for how to create interactive remote lessons using Google Jamboard.

Interested in the latest Jamboard updates that were released in August 2020?

Watch Sam's other video about it here: https://www.youtube.com/watch?v=Cc6_H…​

Google Jamboard can be used for synchronous or asynchronous remote teaching, and of course can be a useful tool for promoting interactivity in the classroom as well.

Click here to access Jamboard: https://jamboard.google.com/​ Become a member of this channel to support Sam's work and access perks! https://www.youtube.com/channel/UCd6v…​

If you're an educator looking for additional support with using technology in your classroom, book a free strategy session with Sam to see how he can help: https://www.21centurycurriculum.com​

Interested in learning how to build a fully tech-integrated curriculum? Visit https://www.21centuryclass.com​ for the latest enrollment updates for Sam's online course.

Click here to visit The New EdTech Classroom for tips, ideas, and resources for how to use education technology to increase engagement, rigor, and creativity in your classroom: https://www.newedtechclassroom.com​

Join The New EdTech Classroom mailing list to receive updates on new videos, blog posts, events, and more!

Plus, when you sign up you get instant access to 20+ FREE resources to use in your classroom today: https://newedtechclassroom.com/mailin…​

Follow Sam Kary on Twitter: https://twitter.com/newedtechclass​ Facebook: https://www.facebook.com/NewEdTechCla…​

TikTok: https://www.tiktok.com/@newedtechclas…​

Pinterest: https://www.pinterest.com/newedtechcl…​ LinkedIn: https://www.linkedin.com/company/the-…​ Interested in the software I use to create my videos? Check out the links below!

Many of these products offer a free trial to start and just clicking on the link helps to support The New EdTech Classroom and this channel! (Full disclosure: the following links are affiliate links, so The New EdTech Classroom would receive a portion of the sale if you were to decide to move forward with a subscription!)

Screenflow is a dynamic, intuitive video editing software that I use to create all of my YouTube videos. They're currently offering a free trial! Get more details here: https://telestream.8bx6ag.net/c/22427…​

I use Adobe Spark Post to design all of my YouTube thumbnails, as well as for the graphics and web page creation, as well as video projects I make with my students. More information here: https://clk.tradedoubler.com/click?p=…​

If you're interested in creating a website, these are a couple of programs I personally use and highly recommend: Bluehost is a web host that offers a professional platform for your website. You can check them out here: https://www.bluehost.com/track/newedt…​

Elementor is a powerful tool that helps with clean visual design for your website as well as marketing to further your website's influence. More details here: https://elementor.com/?ref=11213